GRP GRATING IS IDEAL FOR RISER VOIDS AND SERVICE RISERS
Every contractor knows that riser voids – the aperture left to accommodate M&E services on multiple floors of a building – are a major health and safety issue on any construction site.
To influence the way the construction industry approaches the design, build and use of risers, our company has designed Risegrate.
Easy installation of Risergrate
Installation Options
1

Void perimeter supports utilising GRP angle

2

Void cross members utilising GRP I beam

3

Easily cast into concrete slab

4

Supported on a cast in rebate
Why GRP riser grating is the right choice for you
The product is described as Glass reinforced plastic, a 100% protective product that does away with previous systems, such as steel grating, scaffolding or temporary plywood covers, which can be breached, or fail.
When M&E services are ready to be installed, the grating is easily cut using a jig saw to form the holes required for the riser services.
The use of Fibreglass Grating eliminates maintenance costs, since painting is not required. GRP Grating materials weigh about one quarter of steel grating, and two men can easily handle and fit the panels without the need for any equipment other than hand tools.
The proven gritted anti-slip surface of our moulded grating has one of the highest degrees of slip resistance ever measured for a walking surface, especially in wet, oily or frosty work areas. The integral gritted anti-slip top surface provides long-lasting slip resistant qualities. The material has excellent corrosion resistance, a factor which makes it a logical and cost-effective alternative to conventional steel materials.
Advantages of using GRP Grating for riser voids & service risers
Non slip quartz gritted surface
Superior corrosion resistance
Impact resistance
Non sparking
Maintenance free
UV resistant
Lightweight
Low installation costs
Low design limitations
Life cycle cost savings
Non conductive
Exceptional mechanical strength
Easily fabricated
GRP Grating Systems offers a complete service
Free site visits
Design
Fabrication
Installation
Project Management
Accreditations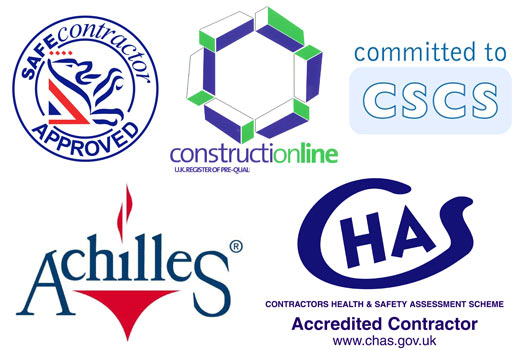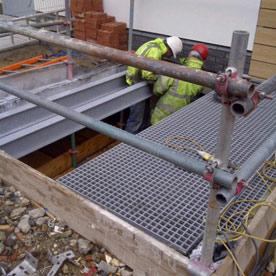 PDF INFORMATION SHEETS
Our Other Services
GRP Grating Systems
Fibreglass reinforced gratings are available in a number of mesh and panel sizes. We carry stock of all sizes, colours and resin types.
Each type of grating has specific properties and applications. Our sales staff would be happy to advise you on any application.
More GRP Grating products